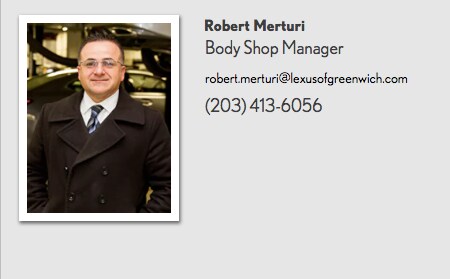 Our shops perform any body repair on any make or model vehicle. The scope of our work ranges from major accident damage to buffing, waxing and touch-up.
Here are just a few examples of what we can do:
Any accident repair no matter how extensive
Complete repainting
Restorations
Paintless dent removal
Bumper spraying
Detailing: Compounding, waxing and shampooing the interior
 24 Hour Service! 
Please call our Body Shop Emergency Hotline at (203) 413-6056, 24 hours a day, 7 days a week.
The advantages of having us handle your body/appearance care needs are:
Free estimates while you wait.
We handle insurance company liaisons.
We will pick-up and deliver your car for estimation and repair.
Our body shop technicians are Lexus trained.
As appropriate, and, at no charge, our dealership technicians will check your car for safety before it is returned to you.
Our paint and body repair are guaranteed for as long as you own the car.
You can pick-up and drop off an Enterprise Rental car at our dealership. We can arrange a reservation for you.
Call us at (203) 413-6056 or email us at bodyshop@lexusofgreenwich.com